Interactive floor projection system
Chariot interactive projection system shows us an intelligent interactive experience with the projection area. It can be projected on the normal floor, wall or window with any desired effects. It brings a magic virtual effects by detecting people's action on the projection screen. We provide customized service meeting your needs.We can even supply multiple display technology to make multi-projection areas look like one projection image without any light gaps.
Structure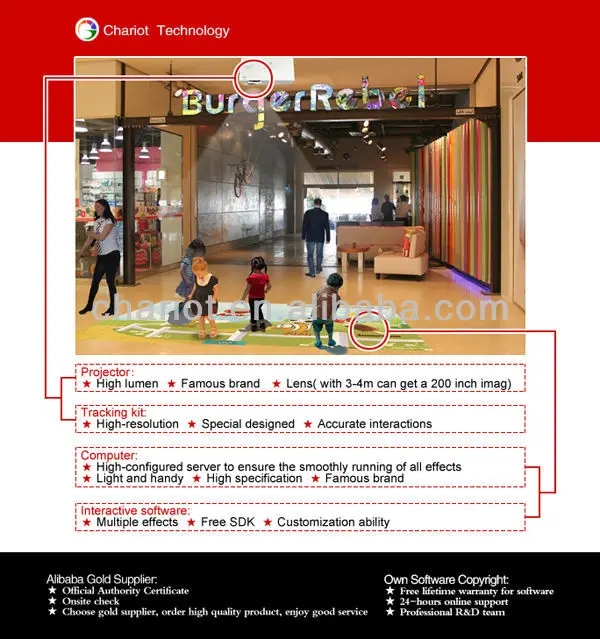 How to choose a good projector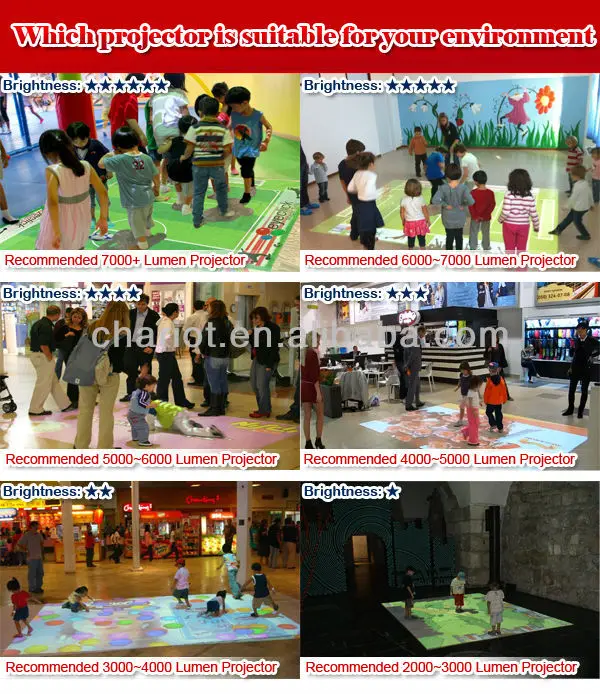 Chariot – Your Best Choice
Chariot provides 2 versions for you to choose
All-in-one version
Easy to install, just plug in and play, convenient to use and play.
Basic version
Economic choice, save your money and give you an excellent interactive experience.
Applications
Hotel, kids center,shopping mall, retail store, wedding,events,entertainment, advertising,exhibition
Technical Specification
Q1.Where can I use interactive floor?
You can use in advertising,education,entertainment,exhibition,public places,hotel,shopping mall,etc.
Q2.How many effects are available?
We have a list of hundreds of effects, you can choose sixty effects for free.
We are keeping on developing more 3D and flash effects.
Q3.Can I buy any other projector by myself ?
Yes,but we recommend you use a projector with high Lumens ( more than 3000) and resolution supported 1024*768.
Q4.If I buy the basic version,can you teach me how to install the interactive floor system?
Yes, we will provide you with a detailed user manual and an installation video.
Q5.Can you design new effects for me?
Yes, we provide new effects, tailored to your own needs. What you can imagine, what we can make. Besides,we provide a free SDK for you.
Q6.Can I use my own images?
Yes, you can customize all the effects in Schedule– Manager, simply click edit>config effect to enter the customization window of each effect. You can add your logo,background, video or other design to it.
Q7.What is the difference between all-in-one and basic version?
All-in-one version includes a computer,a projector,a motion capture and accessory. Basic version includes necessary hardware and accessory.If you already have computer and projector,we recommend the basic version. But all-in-one version contains everything, it is more convenient for you.
Q8.What is the delivery time?
Just 3-5 working days after payment.
Professional R&D team + Brand factory → Chariot